Recent English Courses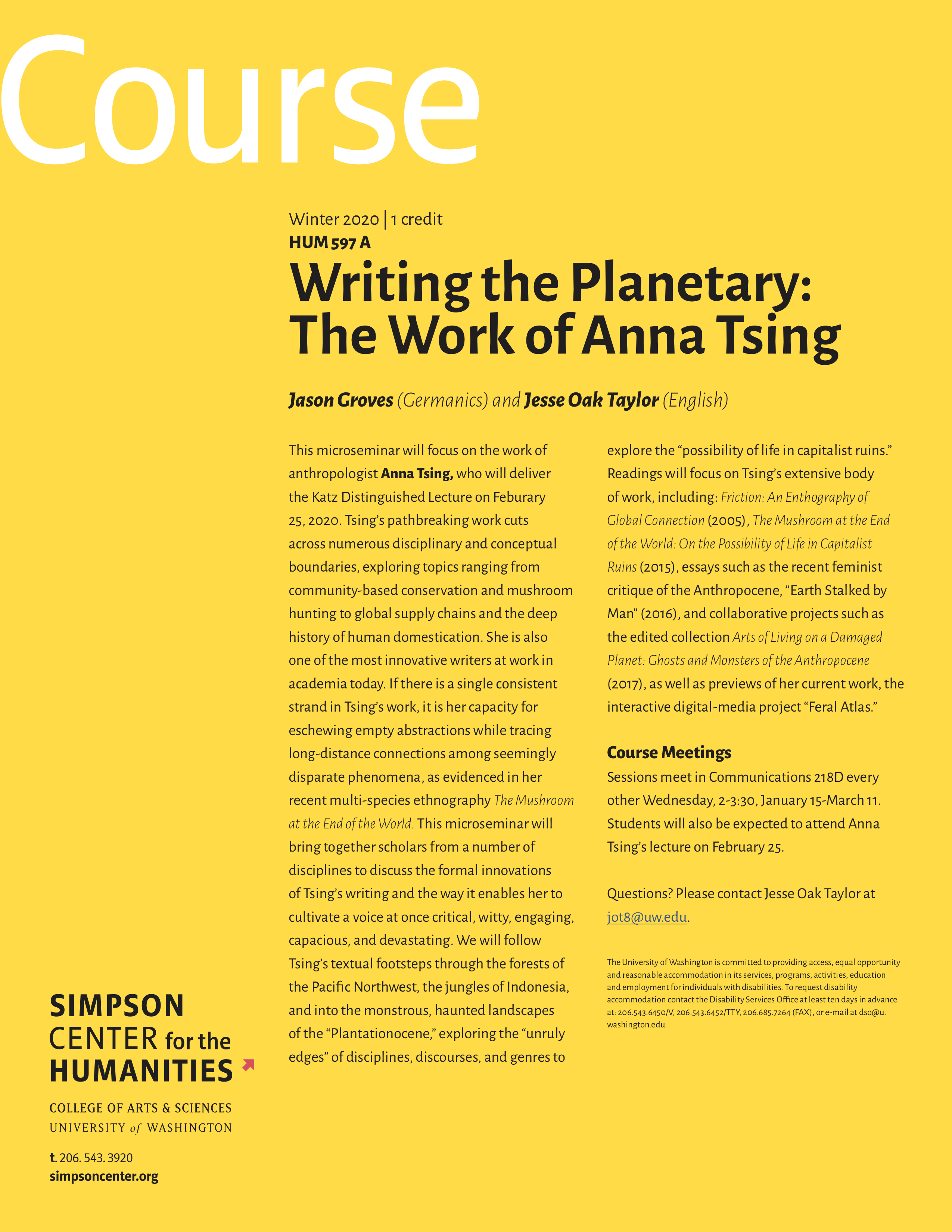 Literary Theory, Methodology, and Bibliography.

Graduate seminar, offers a historical survey of criticism and theory, a snapshot of contemporary German Studies and its methods of research and bibliography, as well as research methodologies for work in the digital, public, and environmental humanities.
Literary Realism: Narrating Nonhuman Nature.
Graduate seminar, an introduction to the problems of representation, narration, and description in nineteenth-century prose, particularly with respect to nature and the physical world, waste and pollution, and the everyday and the ordinary.
The Future of the Human/ities.
Graduate seminar, surveys current and emerging critical and theoretical idioms of the humanities as they pertain to the concept of the Anthropocene,
Tales of the Romantic Imagination: Fairy Tales and the Fantastic
The historical, political, and cultural dimensions of the Märchen collected by the Brothers Grimm and the Kunstmärchen as it developed in the period known as German Romanticism.
Writing Travel: Migration, Translation, and Memory.
Survey of the German-language literature and film of those who—through exile, travel, immigration, emigration, or other politically inflected forms of mobility—have challenged and reimagined traditional conceptions of German national and cultural identity.
Introduction to German Literary Studies.
Introduction to techniques of literary and cultural analysis through reading and discussion of a wide range of texts across three centuries and three genres, while also holding space for the critical evaluation of German Studies curricula.
CARGO COLLECTIVE, INC. LOS ANGELES, CALIF. 90039—3414